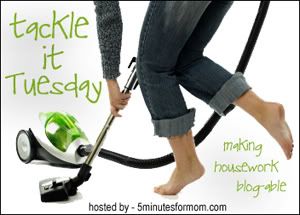 Today
's tackle is something I should have been doing every month. I save every receipt that I get. Since I do the books for his business, that's a lot of receipts, and since I shop to much there are a lot of receipts. Anyways I have a box on the dresser where they are suppose to go and then at the end of the month I'm suppose to file them away. Well for the past 5 months, yes I said 5 months, I haven't done it. I have just let them pile up. Mostly because I just don't have the time. I should have just left Savie at school and come home to do it but in the summer the bedroom is the hottest place in the entire house and turning on the fan in there only makes the papers blow around so it's kinda hard to do it that way.
But yesterday was the day. Hubby was home and could keep Savie busy while I did the receipts. It took me about 4 hours to get most of them put away. I finally did it. Now it's just a matter of remembering to do this every month.
What about you? What are you
tackling
this week?